Deaf children in Somerset 'could fail' in council cuts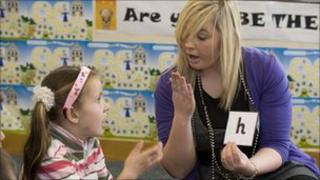 More deaf children in Somerset are at risk of under achieving due to cuts, a national charity for deaf children has claimed.
Somerset County Council has lost two specialist teachers of the deaf and a part-time support worker through redundancy.
The Conservative-led authority said it would train two new teachers.
But the National Deaf Children's Society said the training will take time and children need support now.
The authority is cutting £34m from its budget.
Brian Gale, from the National Deaf Children's Society (NDCS), said: "We are very pleased obviously that they are training up other teachers and we hope those teachers will be available to support children in the mainstream school.
"But that training programme does take time and meanwhile they are down on the number of support teachers.
"We know that deafness in itself isn't a learning difficulty but we know that deaf children are at risk of under achieving at school and not reaching their full potential unless they get the support now so that they can achieve."
'Depressed state'
The teachers work with youngsters ranging from pre-school age to 19.
Claire Fryer from Frome has an 11-month-old old son who gets help from a teacher of the deaf.
She said reducing contact time would have a negative impact.
"Riley would suffer, I think we would suffer with [getting] support. The visits give you a boost," she said.
"If he didn't have her [the teacher] I think I would have gone into a depressed state and Riley probably wouldn't be doing as well as he is now.
"And I wouldn't have met all the parents I've met in Somerset."
A council spokesman said in a statement: "Somerset County Council had to make budget savings and staff were offered voluntary redundancies.
"As a result, two full-time teachers and a part-time support staff member from the hearing support team accepted."
He added this have the service "a chance to restructure", with a manager returning to oversee the service and two teachers undergoing training to become teachers of the deaf.
"Overall we have only lost one part-time post," he said.
"Students with the highest level of need will continue to receive appropriate support from qualified and specialist staff in the hearing support service."