War memorials still 'important' in Somerset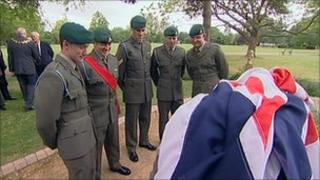 A new memorial stone has been unveiled in Taunton to remember Royal Marines from 40 Commando who were killed in Afghanistan.
The boulder, in the sensory garden at Vivary Park, is a smaller replica of one that stands in the Royal Marines' memorial garden at Norton Manor Camp which itself was put up last year.
The widow of marine Cpl Stephen Curley, Krianne, said: "It's another place where I can go and show my son that other people recognise our sacrifice made by his father so it means a lot."
And Sgt Daniel Slade from 40 Commando said: "You just take it for what it is - it's a nice gesture from the town to show their appreciation."
'Glorify war'
People have always tried to commemorate troops that have died in wars ever since battles began.
War memorials have a number of functions - they are a fixed point for grief; a place for people to remember those that died; and they also represent those who are absent.
Outside braving the natural elements, war memorials have been subjected to decades of erosion and, in some cases, vandalism, making some of the names unreadable.
Paul Gough, deputy vice-chancellor at the University of the West of England has written extensively about memorials and the way we commemorate people who have died in wars.
"War memorials are invisible for 364 days a year and then in November (for Remembrance Day) they burst out like some floral aneurism and into life and then they die down again."
He said the way people mark fallen troops had changed throughout history.
After World War I, crosses were put up however after World War II, there was a move towards buildings and endowments.
Mr Gough added that in more recent times it had become more fluid, with flowers and balloons as people were "less interested in solid options and more interested in taking part".
But they have not always been popular.
"A lot of veterans in the 1920s invaded Armistice Day complaining that everyone was interested in commemorating the horizontal man but not the vertical man and the veteran who couldn't get any work or was maimed and so there was a lot of protest," Mr Gough said.
"Some people feel they glorify war, that they don't celebrate peace in any way; so they are surprisingly vexed bits of our public furniture."
David Godsal, the Somerset president of the Royal British Legion, said war memorials were still relevant.
"It's not a question of the number of war memorials, it's the importance of recognising all the effort that has been put in by the armed forces.
"40 commando have become part of our community. They live here, their wives live here, their children go to school here, so it's very important that we recognise that and this is one of those ways."
And now there is concern over how future generations will mark the fallen following the death of Somerset's Harry Patch, the last surviving Tommy from World War I who died in 2009 aged 111.
"With Harry Patch, we have lost the last living connection with WWI so it'll be fascinating to see how people recall that war and how we service that memory," said Mr Gough.