Avon and Somerset Police neglected cell death man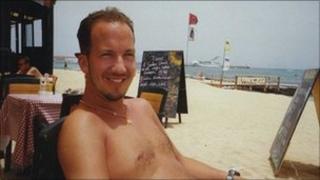 Failures by custody staff at Bath police station contributed directly to the death of a man found drunk in the street, an inquest has found.
Mark Graeme Read, 39, who was taken into custody for his own safety, choked to death on his own vomit.
The jury at Flax Bourton Coroner's Court returned a verdict of accidental death contributed to by neglect.
Avon and Somerset Police said it had now implemented recommendations for improving its custody practice.
Mr Read, from Frome, in Somerset, had been out celebrating the birth of his seven-week-old daughter when he was arrested for being drunk in 2008.
Duty of care
The jury had heard how, crucially, Mr Read was left lying on his back to sleep off his night out, not on his side in the recovery position.
During the inquest, police admitted detention officer Gary Hancock had not been given training on how to deal with intoxicated prisoners.
In its narrative verdict, the jury said that the police had a duty of care to Mr Read but he had not been properly taken care of.
Failures by the police contributed directly to Mr Read's death, the jury said.
A report by the Independent Police Complaints Commission (IPCC) has also criticised the force.
It questioned the way custody suites were run and highlights a lax attitude towards people who are drunk.
IPCC Commissioner Rebecca Marsh said: "While I understand that it was Mr Read who decided to drink so much he was incapacitated, he was still owed a duty of care by the police service after he was arrested.
"We found an attitude best described as a 'let him sleep it off' approach to drunken individuals brought into custody.
Policy changed
"Both the custody sergeant and the civilian detention officer dealing with Mr Read said they would not usually seek medical advice for a detainee who was 'only drunk'."
The detention officer has been dealt with internally through management advice.
"Although misconduct was substantiated against the sergeant he retired from the force and therefore was not subject to the disciplinary process," said Comm Marsh.
Supt Mike Prior said the force had now changed its policy.
He said: "The IPCC made eight recommendations as a result of its investigation and these have been implemented.
"We will now carefully study the narrative verdict returned the jury and will consider any issues that the jury have identified that we have not already addressed.
"Expert evidence heard during the inquest has described how extremely difficult it is to assess the medical needs of intoxicated people."
Mr Read's family said they intend to bring a civil action for damages against the police.