Blackdown Hills swifts helped by conservation survey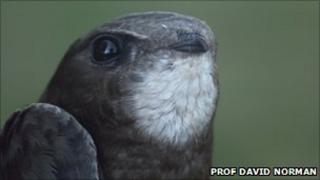 Keen bird spotters on the Blackdown Hills in Somerset are being asked to help halt the decline of the swift.
Numbers of the bird have fallen by 45% in the South West since 1995, and a survey last year found no swifts in the area.
Now the Blackdown Hills Area of Outstanding Natural Beauty (AONB) team, RSPB and Devon Wildlife Trust have teamed up to record local sightings.
Swifts arrive from Africa in April, staying for three months to breed.
They tend to nest under gables and eaves.
Anyone who sees a nest or "screaming parties" of young swifts can complete a form, available on AONB's website or from the AONB office.
Linda Bennett, Blackdown Hills AONB manager, said: "Swifts are amazing birds. They have been a feature of our summers and sharing our buildings since Roman times, so it's vital that we help them to thrive once more.
"I would urge anyone who has seen swifts in the Blackdown Hills to fill in the survey - every sighting will help us to make better plans for their conservation."