Michael Eavis fake Facebook page removed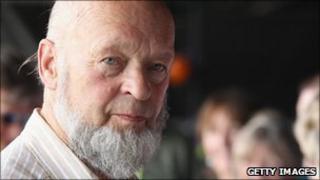 Facebook has taken down a fake page purporting to be that of Glastonbury Festival organiser Michael Eavis.
The page, which had photographs and personal information, was removed after Mr Eavis said he was unhappy that somebody was pretending to be him.
"It's nothing whatsoever to do with me. The stuff that they're saying - whether it's true or not - is not the point," he said.
Facebook said it took it down because it violated its terms and conditions.
The page contained various status updates and had personal information such as where Mr Eavis lives and what school he went to.
'Comic strip'
Mr Eavis said although he had not seen it, he wanted it removed and had asked his solicitor to look into it.
"I don't know what they're saying about me - whether it's accurate or if they're friendly or foe.
"It's just made-up gossipy stuff and it's kind of a comic strip.
"Maybe it's harmless fun, I don't really know, but it's better it not be there.
"It's probably part of the course and you have to live with these things as long as it's not malicious and nasty."
A spokeswoman for Facebook said: "Whilst we can't comment on individual cases, users and content on Facebook can be removed for a variety of reasons including using bullying others, using fake details or posting content which contains nudity."