Somerset SouthWest one deal could do better, study says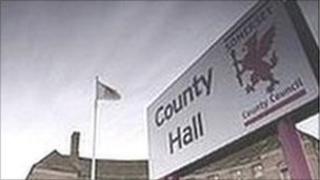 A controversial outsourcing deal signed by Somerset County Council "could do better" according to a report commissioned by the council itself.
SouthWest One was set up in 2007 to take on some administration and back office tasks to save the authority about £180m over 10 years.
A review of the deal, commissioned in 2009, was completed last June, but the results are only now being published.
Southwest One said it had identified £165m of savings.
The report said that so far, only £6m of savings had been delivered, with £60m to come.
It estimates an eventual target of £150m could be met.
'Armchair auditors'
The study also criticised the performance of a key software system and the management and training of staff.
But it acknowledged the success of the call centre and a reduction in costs.
SouthWest One is a joint partnership deal between Somerset County Council, Taunton Deane Borough Council, Avon and Somerset Police and IBM.
Opponents have claimed the deal is secretive and not open to scrutiny.
"This review has now served its purpose and will be published on the council's website so that residents can act as 'armchair auditors'," said Conservative council leader Ken Maddock.
"I hope our residents will be able to use it to build on their own knowledge and understanding of this complex partnership and contract."
In February, the council announced it was to renegotiate its area of the contract and bring some services and staff back in-house.