£18m community hospital in Somerset opens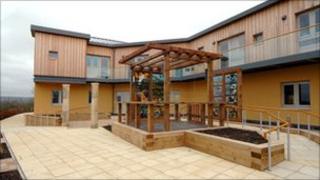 An £18m community hospital in Somerset has opened its doors to patients for the first time.
South Petherton Community Hospital has 24 beds, a stroke rehabilitation unit, a mobility centre and a health and wellbeing centre.
Sixteen beds have been set aside for stroke patients to offer them intensive rehabilitation closer to home.
Chair of the League of Friends, Mary Robertson said: "We're now really, truly in the 21st Century."
"The equipment is top-class, everything has been looked at in great detail and the research has taken project managers to places like Spain for specialist equipment they couldn't get in this country," added Mrs Robertson.
Before the hospital opened patients had to travel to Yeovil hospital for treatment.
Bernadette Edwards, of Somerset Community Health, which is part of NHS Somerset, said: "There's been a high NHS agenda around getting patients that have suffered from stroke home earlier and for us this is about getting that patient out of the acute sector earlier on."