BBC Countryfile 'catalyst' for Yeovil shops change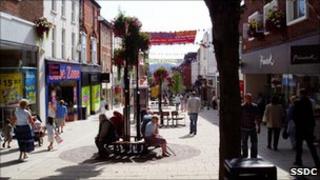 A BBC Countryfile programme about the decline of independent shops in a Somerset town has prompted action from traders.
The broadcast in April examined whether larger chain stores drove out smaller, independent food stores in Yeovil.
Vice president of Yeovil Chamber of Commerce, Jason Livingstone said the town was "doing well in a bad time".
But he said the programme acted as a "catalyst" for change and has made them more proactive about empty shops.
The report produced by Countryfile was based on a study published by the Campaign to Protect Rural England.
It showed 17% of Yeovil's shops were vacant and ranked the town 78 out of the 500 towns surveyed when it came to the most empty shops in a town centre.
'Absolutely wrong'
The Chamber of Commerce received letters from 22 independent traders to complain about the show.
Mr Livingstone, said: "It's all about marketing and perception, we're doing well in Yeovil and some of the information that was put out in that piece was absolutely wrong.
"We've got independent butchers and grocers, and we as a community are doing well in a bad time, and do not agree with the statement which showed Yeovil as an example of a declining market town."
The Yeovil Chamber of Commerce sent in a letter of complaint to Countryfile on behalf of the independent shops.
A Countryfile spokesman said: "The report featured in Countryfile on April 10th was based on information from a study carried out by the Campaign to Protect Rural England.
"Countryfile spoke to a number of local businesses and food suppliers about the recent influx of supermarket stores to the area.
'Positive light'
"To demonstrate both sides of the debate, the programme also looked at Totnes where the arrival of supermarket stores was seen in a more positive light."
The Yeovil Chamber of Commerce said it was now focussed on improving prospects for independent traders.
Mr Livingstone said that although a town centre partnership was already in place, it did not represent the views of independent shop owners but those of larger chain stores.
"What it has done is put all these independents together for the first time in a long time, and what we're saying is what do we do? We've got these problems, how do we market ourselves?
"There are a lot of good, helpful people there in local councils but it's trying to get all of us working together working in the same way."
A special meeting will be held on Wednesday to explore what action can be taken.