New plan to tackle violence against women in Somerset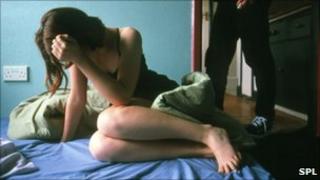 Women and girls at "high risk" of abuse in Somerset are being promised better help in a new county-wide strategy.
The Somerset Interpersonal Violence Strategy will cover domestic abuse but also stalking, honour based violence and forced marriage.
Carrie Rosset from domestic abuse charity BCHA said the county council strategy was "very comprehensive".
The council said it hoped the scheme would see a more consistent response from police and social services.
A new service has also been launched in Taunton by BCHA to help victims of domestic abuse.
Every month in Somerset between 300-400 domestic violence incidents are reported to the police out of which approximately 160 are recorded as crimes.
Sexual exploitation
Between 2009-10, a total of 185 families across Somerset were supported by the Domestic Abuse Services.
The strategy will also acknowledge that men can also become victim to these crimes.
Efforts will be made to ensure all district councils offer the same level of help and support to children and young people who have experienced domestic abuse in the county.
It also the first time the issue of forced marriage, honour based violence and trafficking for sexual exploitation has been tackled in this type of strategy.
Karma Nirvana, a national charity which supports victims of forced marriage and honour based violence, ran a roadshow in the South West with Avon and Somerset Police in May.
Natasha Rattu, from the charity, said: "Since the roadshow four weeks ago, we've had about six calls in comparison to two or three in a whole year... we had a female who experienced extreme honour based violence in the home and we supported her with Avon and Somerset police."
The strategy was drawn up based on a government paper in November 2010 called Call to End Violence against Women and Girls.