Somerset 40 Commando marines in Thames rowing challenge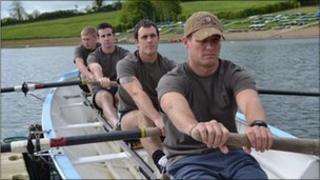 Somerset marines injured in Afghanistan are rowing on an Exmoor lake in preparation for a charity challenge this summer.
The men from 40 Commando near Taunton are training on Wimbleball Lake in practice for July's Thames Challenge.
A team of 10 marines will row the length of the Thames in just five days, rowing for 10 to 12 hours a day.
It takes place from 10 to 14 July and will raise money for the Royal Marines Charitable Trust Fund.
Big challenge
Marine Jamie Jowett was hit with a rocket in Sangin, Afghanistan, in July 2010 and picked up shrapnel injuries to his back, glutes [backside muscles] and heel.
He also fractured his back but has been training hard ahead of the challenge.
"It's a bit testing on the old back but it's all right," he said.
"I'm sure it'll hurt on the day though. Five days of it will probably be a bit testing.
"I think the biggest part for myself is getting the rhythm going.
"You have to concentrate quite a lot for everybody to put their oars in at the same time.
"I think that's going to be the hardest part, the concentration for eight hours a day for a week."
'Massive benefit'
Another marine taking part in the challenge is Cpl Ian 'Roni' Ronald, who is recovering from a severe brain injury which affects his movement and balance.
He was diagnosed with a brain tumour 2008 and, following surgery, was unable to speak or walk but has been rowing for the past two years.
"It's been a massive benefit to my rehab," he said.
"I stuck with it and got really into it and it's a competitive sport that I can now compete in.
"Whatever situation marines are in they always find themselves positive and they will do the best they can, whatever situation they are in."
Despite his limitations, Cpl Ronald now hopes to be selected for the mixed four rowing squad for the 2012 Paralympics.
"[They are a] fairly extraordinary bunch of people who are well on their way to recovery," said Brig Jeremy Robbins, a retired marine who is organising the Thames Challenge.
"They are training hard. They will be rowing 150 miles (240km) miles going through 45 locks.
"We estimate around 55,000 strokes over five days as they row from Lechlade in Gloucestershire up to Greenwich, London."
Brig Robins is encouraging members of the public to take part in their own Thames Challenge by travelling the equivalent length of the Thames in either the gym or at home.