Ex-marine Mark Ormrod of Taunton wins book award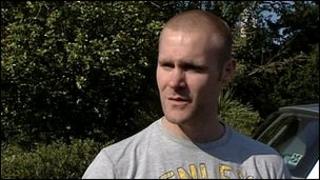 An ex-marine who wrote a book about how he lost limbs during conflict in Afghanistan has won a Royal Marines Historical Society award.
Triple-amputee Mark Ormrod, of 40 Commando, Taunton, Somerset, lost both legs and an arm when he stepped on a landmine in Helmand Province in 2007.
He was originally told by doctors he would never walk again but can now run with specialist prosthetics.
The book, Man Down, describes the incident and Mr Ormrod's recovery.
"It was something that I wanted to do for myself," he said.
"This is something that I was thinking of doing before I was injured. Then after I was injured, it just gave me a lot more stuff to talk about.
'Secret plans'
"Writing about my experiences, and the traumatic events that I've been through, was a great way of helping me come to terms with stuff."
The historical society was formed in 1964, and aims to preserve and encourage research into the history and traditions of the organisation.
Mr Ormrod said he found out he had won the award via the social media site Facebook, when he was contacted recently by someone from the society.
"I had no idea what he was talking about to start with," he said.
"The award was actually from 2009 but when I was originally supposed to accept it I was in a charity event running across America."
Mr Ormrod now works as the welfare officer for the Royal Marines Association and raises money other injured servicemen, and he said he has "a few secret things" planned for the future.