'Unlucky' dog needs new home after failed attempts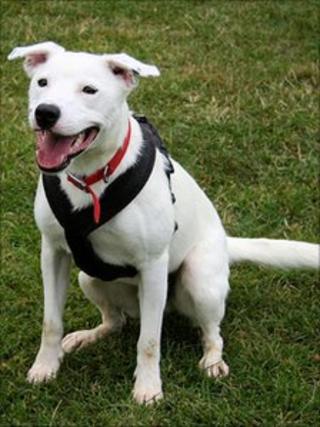 Somerset's "unluckiest dog" is looking for a new home after three failed attempts to rehome him.
Staffordshire bull terrier cross collie Derek, two, has so far spent more than half his life in RSPCA care.
He has been at the West Hatch Animal Centre, near Taunton, since March 2010, when his homeless owner handed him over to staff.
Derek has now been to three new homes, including time spent with the Army, but has been returned each time.
Derek was first snapped up by new owners in May 2010, but was returned just 22 days later as his new owners we unable to cope with his "over-enthusiastic take on life".
Once back at the animal centre, staff realised Derek was very bright - with a great nose for sniffing - and he might be perfectly suited to a life in the forces.
Army officers liked what they saw and took Derek on as a potential new recruit.
But, while the dog trainers loved Derek's personality, they discovered that he disliked getting in and out of vehicles.
He was then returned to the RSPCA as unsuitable for their training.
Third time lucky
Staff at West Hatch were convinced it would be third time lucky for Derek, so he was rehomed again.
But the moment he arrived at his new residence, he jumped into the household pond and then dried himself off on the family sofa.
He was returned to the RSPCA just 22 hours after being adopted.
Animal centre staff have now had to adapt a room at West Hatch to care for him as he is finding life in the kennels too stressful.
"Derek really struggles in confined spaces and when he's locked in his kennel he rebounds continuously off the walls until he reaches the point of complete exhaustion," said RSPCA West Hatch deputy manager, Anita Clark.
"His new bedroom works wonders and he is a lot more relaxed, but what he really needs is a proper home of his own as soon as possible."
'More settled'
Derek has been spending some time away from the shelter with RSPCA West Hatch reception supervisor, Sarah Hetherington, when she is off duty.
"Derek is a much happier, more settled dog when I take him home," she said.
"He has enjoyed everything from long country walks to the odd trip to the pub. He is nervous to start with but once his confidence grows, he is very enthusiastic about everything.
"He has had a lot of disruption in his life and requires a lot of time and patience, lots of exercise and consistent guidance."
Derek is fairly obedient, housetrained and now travels well - he is looking for an adult-only home where someone is around for most of the day as he suffers from separation anxiety.
"We have put up flyers, run an appeal on Facebook and asked everyone we know to spread the word but Derek is still waiting for a new home," added Anita.
"We just don't know what else to try, it is such a shame as he is lovely."