Glastonbury Festival 2011: Traffic and Weather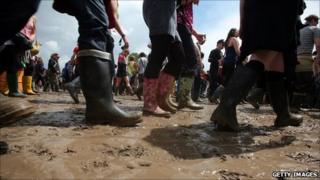 Around 177,000 people have travelled into Somerset for the Glastonbury Festival.
By Friday everyone was on site and a new traffic route seemed to alleviate the build up of traffic experienced in recent years.
Access to the car park was open from Tuesday to alleviate congestion, and the festival gates opened at around 0730BST, a little earlier than planned.
On this page you can find traffic links and get the latest weather updates.
Weather
In 2010, the sun shone on Worthy Farm, but 2007 saw one of the wettest years ever, with flooded tents and slippery mud.
Here's the latest forecast from BBC West's weatherman Ian Fergusson (Friday, 1115BST):
FRIDAY: A sunny, dry start, with variable amounts of fair-weather cloud and increasing high cloud spilling in from the SW through the morning as the sunshine turns increasingly hazy towards midday. Very high pollen count! Breezy again but fairly warm in the sunnier spells, around 16C. Into the afternoon, the cloud continues to thicken and lower, with some light, showery outbreaks of rain likely by early to mid-afternoon. Thereafter, outbreaks of more persistent rain will spread across Worthy Farm into the evening; turning heavier at times by mid-evening onwards, so it will become progressively wetter during the U2 set! The rain then continues overnight, with further heavier bursts around midnight to 0200BST, but turning lighter and patchier in the early hours. Overnight lows around 10-11C.
SATURDAY: Starts overcast, with patchy drizzle first thing in the morning. It'll then dry-out, with the cloudbase starting to show signs of breaking up into the afternoon, giving way to very warm sunny spells. Breezy again. Highs around 21-22C once any sunshine breaks-through. Noticeably balmy overnight, and dry.
SUNDAY: A dry, very warm/hot day, with some early low cloud breaking-up to offer lots of sunshine through the day. Suncream and hayfever tablets needed! Temperatures reaching 25-27C. Great day to finish the festival….
MONDAY: More of the same: another fine, hot day and remaining dry.
Traffic
On Monday 27 June, BBC Somerset will have the latest traffic updates during its Breakfast programme from 0630-0900 BST and during the Morning Show with Emma Britton from 0900 - 1200BST.
BBC Somerset reporter Rachel Andrews will be reporting live from Castle Cary train station from 0700 BST.
Tune your radio into 95.5 FM or 1566 AM for the latest information.