Tent firm pulls out of Glastonbury Festival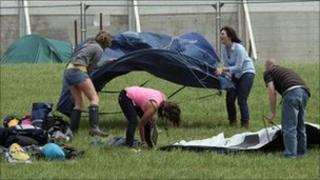 A firm that was to provide luxury camping accommodation at Glastonbury has pulled out due to "unforseen circumstances".
Myhab was to provide pre-erected two-man tents at the site along with showers and washing facilities.
Glastonbury Festival organisers have appointed an alternative provider - the Green Tent Company - which will provide tents for affected customers.
The festival said it was making the move "at its own expense".
"Naturally, we were as shocked by this sudden and unexpected news as those of you who have booked with Myhab no doubt are," said a statement from the festival.
"Although this situation is certainly less than ideal we very much hope that you will still be able to enjoy the benefits of the facilities at Pennard Hill Farm."
Other benefits advertised by Myhab included a breakfast catering bar, a chillout area and a ladies' pampering area.
The festival said showers, toilets and parking would still be provided.
The firm was charging £200 per tent and also promised 24-hour security.
Myhab emailed customers with the news on Monday night.
The company did not respond to calls or emails from the BBC.