Egg Theatre in Bath hosts school classes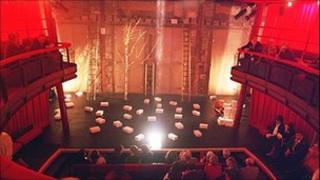 Children at a school in Bath are spending a term studying in a theatre in the city.
St Andrew's Primary School has been taking lessons at the The Egg theatre as part of a national project.
The Schools Without Walls scheme sees the youngsters learning skills such as customer service, alongside National Curriculum classes.
It is the first time anywhere in the UK a whole class has taken part in the project.
Headteacher Sue East said: "I think it's fascinating how a different space has brought out different qualities in all the students and teachers.
"It's making me ask really big questions about how we learn and how schools should be."
The Egg theatre opened in October 2005 and is one of only five dedicated theatres for children in the country.
St Andrew's Primary School is entering the final two weeks of the seven-week scheme.
"Compared to our old stuffy, small classroom back at school, we've got big plain walls and a view of the city," said Alex who is taking part in the scheme.
The Egg theatre has said that it will run the scheme, which is funded by the Arts Council and Bath and North East Somerset Council, again next year.