Midsomer Norton schoolchildren take white tank to class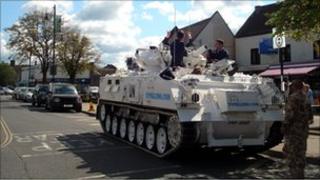 A group of Somerset students have said goodbye to school and celebrated the end of their exams in an unusual way.
Fourteen pupils from Norton Hill School in Midsomer Norton hired a big white tank to take them all to their leavers' day ceremony.
Ben McCarthy and Harrison Malik organised the extravaganza because "they thought it would be different" and they wanted "something a bit wild".
They said it "started as a joke" but ended in a tour around the town.
'Out with a bang'
"We said 'why don't we just bring a tank' and then Harrison searched for a tank and he found one and then it went from there really," said Ben.
Ben and Harrison got permission from the school to take their rented vehicle in for the day but kept it a surprise from many of their friends.
They said the vehicle was a troop carrier and the size of "two tanks stuck together".
"I liked the sound of it really," said Harrison.
"It only happens once and we wanted to stand out from the crowd. You've got to go out with a bang."