Rallies held across Somerset over new pension plans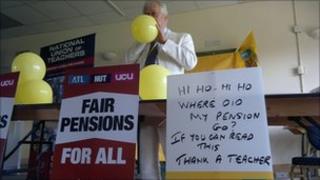 Rallies have been held across Somerset, as teachers and civil servants took part in action over new pension plans.
Thousands of children had the day off as many schools were closed or partially closed.
Ministers say current pension arrangements are "unsustainable" and want staff to work longer, pay more and accept lower payouts.
Union leaders say the proposed changes - which are based on a lower level of inflation - are unfair.
The action was taken by the National Union of Teachers (NUT) and the Association of Teachers and Lecturers.
Robin Head, secretary of the Somerset branch of the NUT, said: "That's going to cost me personally, over a course of 20 years, £110,000. You tell me what's fair in that.
"If I was a builder and you wanted an extension and we agreed a price, that is what I would expect to pay. I wouldn't expect you to decide half way through the building, 'no, I'm going to give you a lot less than that'."
Courts closed
A rally was staged at Taunton Rugby Club and picket lines were in place at Taunton Hydrographic Office - part of the Ministry of Defence.
Civil servants were also involved in action over the government's proposed changes.
Bristol Airport said there had been no disruption despite plans by some UK Border Agency staff to walk out.
Taunton Magistrates' Court and JobCentre Pluses in Bridgwater and Taunton were also affected as part of the action by the Public and Commercial Services (PCS) union.
Somerset County Council, which published a list of closures and partial closures for the county, said 73 schools were affected out of 212 schools.
More than 1,000 teachers were believed to have taken part across the area on Thursday.
In North Somerset, 37 schools out of 72 schools were closed or partially closed by action.
In Bath and North East Somerset, 49 of 100 schools were affected.
The NUT said it also staged picket lines at Nailsea secondary and Worle secondary schools.