Musgrove Park Hospital apology to patient Heather Tyler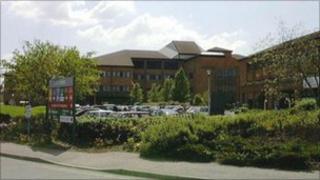 The director of nursing at a Somerset hospital has apologised to a woman who says she was left lying in blood-soaked sheets after an operation.
Heather Tyler, from Williton, had an operation to remove a golf ball-sized lump from her neck earlier this year.
She claimed she was told by letter that she had cancer two weeks after the procedure at Musgrove Park Hospital in Taunton.
Greg Dix said "good patient experience" was an "absolute priority".
Ms Tyler said that after the operation, she was left in blood-soaked bedding for hours before changing the sheets herself.
She claimed they were still lying beside her bed when she was discharged 24 hours later.
'Two lines'
She said she was also unhappy about the way she learned she had follicular cancer.
"I got a letter through the post and it said 'We have tried to phone you to make an appointment', she said.
"When I spoke to the secretary they said they only phoned once.
"Two lines, that's the first I knew about it.
"Luckily I was sitting down. I cried, I thought 'my God, I've got cancer'."
Mr Dix, director of nursing at the hospital, said: "It's absolutely not standard practice to leave patients lying in blood-stained sheets.
"I really want to apologise for any care that patients feel does not meet the high standards that we set ourselves here at Musgrove."
He said the hospital encouraged patients with concerns to contact the hospital via the patient advice and liaison team.
"We would urge Heather Tyler to do this so we can look into her care," he said.