Somerset couple criticises pay-out for Tobago machete attack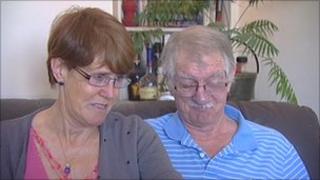 A couple from Somerset who survived a machete attack while on holiday in Tobago have been told the most they can expect in compensation is about £2,500 each.
Peter and Murium Green said the sum from the Trinidad and Tobago's Criminal Injuries Compensation Board (CICB) was "insulting".
In April, the British High Commissioner said the case against Clint Alexis, 25, of Breadfruit Alley, Argyle, had been discharged.
The pair were attacked in 2009.
Mr Green was left blind in one eye, has head injuries and is now partially disabled. Mrs Green was slashed across the face with a machete in the attack.
'Completely unprepared'
Both have had numerous facial reconstruction operations.
"What I've got to understand is that in Trinidad and Tobago it is a lot of money, but of course here it isn't.
"What it does say to me is that the government is completely unprepared for tourists who visit the island who may well be attacked and they haven't got an idea of how to handle the situation," said Mr Green.
In the letter to Mr Green, the CICB said the maximum allowed in compensation was TT$25,000 which is equivalent to about £2,429.
No compensation offer has yet been confirmed.
Two detectives from the Caribbean island are due to visit the couple at the weekend in the hope of re-opening the case.