John Penrose MP in Banwell A371 lorry ban bid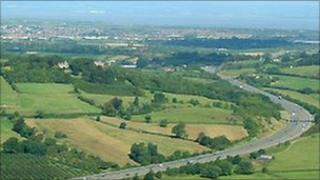 A Somerset MP is calling on the government to reclassify a road through Banwell so a lorry ban can be imposed.
Conservative John Penrose, who represents the Weston-super-Mare constituency, said he shared the parish council's concern over the A371.
In a letter to the minister for roads. Mr Penrose called for the road to be removed from the primary route network.
He said he hoped the minister would understand the villagers' dismay if even larger HGVs were allowed through.
At present local authorities cannot introduce an HGV ban on a National Primary Route.
Mr Penrose said: "Depriming the roads would be a big step towards solving Banwell's problems and, because the prime designation predates the building of the M5, would only recognise the modern reality that the road is hopelessly inadequate and the designation is no longer necessary either.
"I've urged the Department for Transport to look at depriming this road, and also to take account of the parish council's entirely understandable fears about even larger lorries if the prime designation remains."
The Primary Route Network designates routes between major settlements and ports/airports across the UK, and is the preferred routing for long-distance traffic, particularly goods traffic, between those destinations.