Reduced mobile library routes in Somerset revealed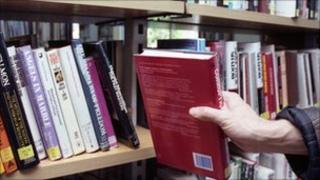 New mobile library routes have been announced by the Conservative-led Somerset County Council after cuts to its mobile library service.
From 15 August, two vans will be making 311 stops to "more than half" the communities which are currently served.
Previously, the six mobile libraries made 854 stops across the county.
Under the reduced service, 209 of the 415 communities will continue to receive a service.
Stops will be made once every four weeks to key groups such as elderly or housebound people.
Councillor Christine Lawrence said devising these new routes had been "very difficult". Mrs Lawrence, cabinet member for communities, said: "We have done our very best to limit the impact by making sure the service still reaches as many communities as possible.
"Our aim is to provide the best service we can with the resources we have."
The council aims to save 25% - £1.35m - of its library budget.
Other key groups include play groups, pre-school, people in sheltered housing and elderly people's groups.
Details of the changes will be sent out to mobile library users over the next few weeks.
The county council has also said static libraries which could have their funding cut may be offered a mobile library service as a replacement.