Somerset MP Jacob Rees-Mogg fails in speech award bid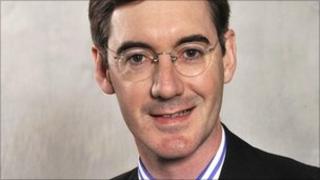 The MP for North East Somerset, Jacob Rees-Mogg, has failed in his bid to win the Commons Speech of the Year award.
The Conservative MP was nominated for his speech on 7 December 2010 during the debate on the European Union Bill.
Prime Minister David Cameron was also nominated in the same category but they both lost out to David Crausby MP.
The Labour MP for Bolton NE won for the speech he gave about his late father's D-Day experiences during World War II and the aftermath for him.
Mr Rees-Mogg was voted into Parliament for the first time in 2010.
Over the past 14 months he has gained a reputation for his "colourful and evocative" speeches which draw on history and contemporary culture.
Mr Rees-Mogg has put his skills as an orator down to accumulating "a lot of useless knowledge, some of which could be used relevantly to illustrate a point".
'Eccentric, funny'
Kerry McCarthy, the Labour MP for Bristol East, said: "He's established himself as a Commons character, he's a very good off-the-cuff speaker and he's one of the few where people look forward to hearing him speak.
"It's partly because he's eccentric, funny, and people are not sure what he's going to come out with."
During his election campaign, Mr Rees-Mogg attracted criticism from rival Labour candidate Dan Norris for referring to people who had not attended Oxford or Cambridge universities as "potted plants".
Four MPs were nominated for the Speech of Year category in The House awards.
Mr Cameron had been nominated for his historic apology for the 14 killings at the hands of the armed forces in Londonderry on Bloody Sunday.
The award was announced in the House of Commons.