Horse racing at Bath abandoned for safety reasons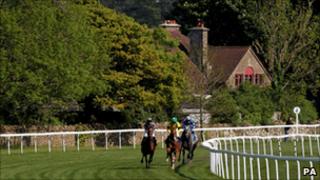 Racing at Bath was abandoned on Wednesday after rain made the course so slippery a horse fell and a jockey was injured.
The horse slipped and knocked over another, and the jockey hurt his knee.
Holly Glover, general manager at Bath Racecourse, said the last race was abandoned in the interests of safety:
"Despite precautionary measures being taken to reduce any risk in advance of and during today's meeting, one horse slipped on the home turn bend."
She added: "This was due to rain falling on firm ground making the turf slippery."
Ms Glover said the racecourse management would meet with the British Horseracing Authority course inspector to discuss the issue in advance of next Thursday's fixture.
"Safety of horses and jockeys is of utmost importance to us and we will learn from today's incident and continue to take every measure necessary to ensure that the track at Bath is safe and suitable for racing," she said.