Cash mistakenly recycled by Wiltshire woman is recovered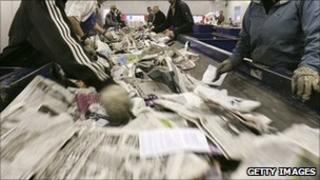 A grandmother who accidentally threw away over £1,000 in cash along with her recycling has had the money returned.
Ann Honour, from Chippenham in Wiltshire, mistakenly recycled an A4 envelope containing £1,017 along with a pile of newspapers in her kerbside bin.
It was after her recycling box was collected on Thursday that she realised the money for building work had gone.
Mrs Honour called the recycling company and within 90 minutes the money had been found and returned.
A spokesperson for Hills Waste Solutions said they were "really pleased to have been able to help out".
"We immediately contacted the vehicle and called it back to our materials recycling facility at Lower Compton," they said.
"On arrival the paper was tipped out and half a dozen Hills staff painstakingly searched through the pile of paper for the A4 size envelope that she had described.
"In the end it was the driver of the collection lorry who discovered the envelope with the money inside. We immediately sent a member of staff round to Mrs Honour's house."
'No chance'
Mrs Honour said that she was "absolutely delighted" at having the money returned to her.
"To be honest I thought I had no chance, but I rang the help number and they said they would have a look," she said.
"I was absolutely delighted when the lady called round with my envelope.
"I did give Hills a card to say thank you, which they accepted, and a reward, which they said they could not."