Wellington couple give statements over Tobago machete attack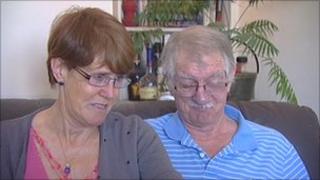 Detectives from Tobago have travelled to Somerset to interview a couple who survived a machete attack while on holiday on the island.
Peter and Murium Green from Wellington were badly hurt in the incident and left for dead but so far no-one has been charged.
Mr Green was left blind in one eye, has head injuries and is now partially disabled. Mrs Green was slashed across the face with a machete in the attack.
The pair were attacked in 2009.
Both have had numerous facial reconstruction operations.
Earlier this week the couple were told the most they can expect in compensation was about £2,500.
Speaking then the Greens described the sum from the Trinidad and Tobago's Criminal Injuries Compensation Board (CICB) as "insulting".
In the letter to Mr Green, the CICB said the maximum allowed in compensation was TT$25,000 which is equivalent to about £2,429.
No compensation offer has yet been confirmed.