Injured marines in river challenge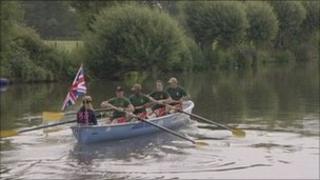 A group of 10 Royal Marines from Somerset are trying to row the length of the River Thames between Wiltshire and London in five days.
The men from 40 Commando are all fighting injuries or illnesses, some of which were sustained in Afghanistan.
The group set off from Lechlade on Sunday morning and hope to complete the 150-mile (240km) journey by Thursday.
Cpl Mike Ball said the team had two reasons for putting themselves through the challenge.
"Firstly to raise money for fellow Royal Marines who've been injured in Afghanistan or fallen on bad times.
"Although we are in rehab as Royal Marines we never stop training other parts of the body we can keep strong.
"This is quite a big challenge we can focus on and put our efforts into," he said.
The marines are aiming to cover about 30 miles (48km) a day using an estimated 55,000 strokes.
The money raised will go to the Royal Marines Charitable Trust Fund.