Plan for 20mph limit on all Frome residential streets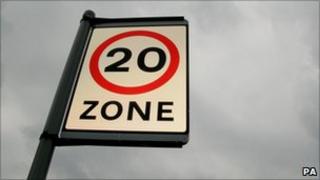 A campaign has started to make Frome the first Somerset town to have a 20mph limit on every residential street.
Those behind the 20 is Plenty for Frome initiative said it would make the roads safer and in turn encourage people to walk and cycle.
"Without traffic calming", the move would be different to a dedicated 20mph zone which uses speed bumps and would be enforced by signs.
But Avon and Somerset police say "it is not practicable" to enforce the limits.
They recommend "any new 20mph zones are designed in a way that is self enforced by the road layout".
"It will make a huge difference to people's lives, particularly where people live," said Simon Carpenter from Sustainable Frome, the group which started the call for reduced speeds.
"[It] will make the streets a lot safer for everybody, particularly young children and the elderly.
"It's a great way to encourage more people to walk and cycle if they think it's going to be safer to do so."
'Public discussion'
Currently Frome has 20mph limits around some schools but the campaign aims to "start to bring about a public discussion about how we share our streets."
Members are collecting signatures for a petition which will be presented to Frome Town Council and Somerset County Council when they have reached 1,000 names.
Following a decision three years ago, about 90% of Portsmouth's roads now have the lower limit.
"It's worked relatively well here, so we're pleased that we introduced it," said Liberal Democrat councillor Jason Fazackarley, who is responsible for transport in the city.
"There certainly hasn't been any call from residents to have it withdrawn.
"We do still get those drivers that refuse to adhere to speed limits and that's when it comes down to the police to ensure that they enforce it."
A spokesman for Somerset County Council said, as yet, it had not seen any proposals, but would talk to campaigners.
"We're happy to look at any proposals and have the support of any partners. Any recommendations we make have to be approved by the police."