Taunton Town FC clubhouse badly damaged in fire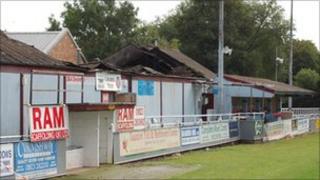 Taunton Town Football Club's newly refurbished clubhouse has been badly damaged by fire.
Emergency services were called to the ground in Lisieux Way about midnight after reports the bar was ablaze.
The fire service had concerns about asbestos and were prepared to evacuate a neighbouring nursing home.
The fire was out by 0600 BST and an investigation into the cause is under way.
'Evacuation standby'
A spokesman for Devon and Somerset Fire and Rescue said: "Asbestos was involved on a large scale and concerns were raised throughout the incident for a neighbouring nursing home, on standby for evacuation, and surrounding homes.
"Fortunately, the level of asbestos involved was confirmed as minor, with no impact to the local community."
Taunton Town FC's chairman Kevin Sturmey said: "It looks like we've lost most of the bar and part of the function room.
"We were in the process of refurbishing everything, we'd virtually finished the toilets and the function room last weekend.
"We have a first league game on the 13 August, so we'll pull out all the stops to make sure that can go ahead. Luckily there is no damage to the pitch."