Stonemason's medal hope in WorldSkills 2011 competition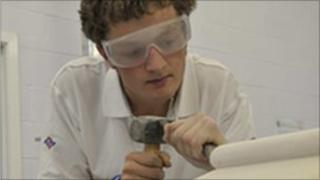 A stonemason from Somerset has got through to an international competition to show off his craftsmanship skills.
Chris Berridge, 22, works at a quarry in Ham Hill, near Yeovil, and studied his craft at City of Bath College.
He said: "It's been a lot of hard work but to be chosen to represent your country in such a massive competition is a great reward."
He will compete against stonemasons from 50 countries in the hope of winning a gold WorldSkills medal.
"Everybody gets a set drawing and the same-sized stone and you've got to produce templates from the drawing and carve a stone from the templates as accurately as you can, and the highest score wins.
"If your stone doesn't match your template by 1mm, that's your tolerance so you start losing marks and you need 97-98% accuracy."
Queen's garden party
There are 47 trades in the competition which is open to people aged 23 or under. About 1,000 people are taking part in the four-day event at the ExCel centre in east London.
Mr Berridge is the only stonemason from the UK who has been put forward after going through national heats.
"The colleges put you forward for the national competitions, so you compete within the college, the top three go to one-day competitions, and there's 30 people from 10 colleges - the top three get scouted out for internationals."
There are 43 people from the UK who are competing across 37 skill areas such as graphic design, cookery, and landscape gardening.
"You get an invite to the Queen's garden party if you get a gold so that will be nice."
The competition takes place between 5-8 October.