Bath man's anger over 'gay cure' letter in newspaper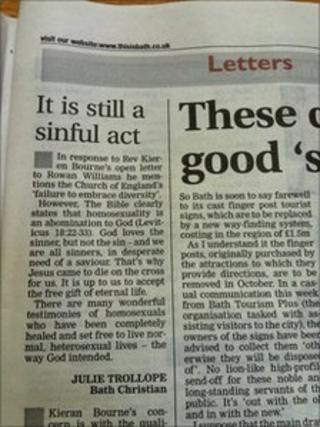 A gay Bath resident has said a letter claiming that homosexuality can be "cured" is "absolutely disgraceful".
Baz Harding said he was "shocked and dismayed" after the letter, titled 'It is still a sinful act', appeared in the Bath Chronicle earlier in July.
It was written by Julie Trollope in response to a letter by gay church leaders claiming the Church of England was failing to embrace diversity.
The newspaper said she had a right to have her views aired.
Ms Trollope, who signs off the letter with Bath Christian, said she wrote it in response to an open letter to Rowan Williams, the Archbishop of Canterbury.
The open letter had been sent to the paper by Reverend Kieren Bourne from Living Springs Metropolitan Community Church.
The church, in Bath, caters for lesbian, gay, bisexual, transgendered people and those who have been excluded from other churches.
Ms Trollope's letter says: "However the Bible clearly states that homosexuality is an abomination to God (Leviticus 18:22-23.)
"There are many wonderful testimonies of homosexuals who have been completely healed and set free to live normal, heterosexual lives - the way God intended."
Mr Harding said: "At first I was quite shocked and couldn't understand why somebody would allow that to go to print.
"I did immediately wonder if they would have put a story about religion or race in there along the same lines.
"Cured from what? I'm happy being gay, I've been with my partner for eight years, we've got a happy relationship.
"What I read was absolutely disgraceful."
Bath Chronicle editor Sam Holliday said he understood Mr Harding's point of view, but defended the paper's decision to publish the letter.
He said Ms Trollope had a right to have her opinions aired.
"I think on balance we got it right," he said.
"We will publish anything within the law and without malice."