WWII submariner's memorial aims for Hayling Island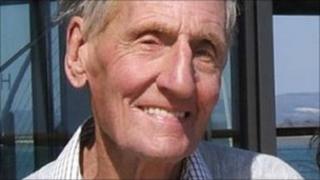 A former submariner who served during World War II is supporting a memorial fund to honour his colleagues.
The Combined Operations Pilotage and Reconnaissance Parties (COPP) was a covert group set up to improve invasion techniques during the war.
Jim Booth, 90, said: "Prince Charles very nobly offered a lump of granite from his Cornish estates quarry which he thought would be a good memorial."
Now Mr Booth is trying to raise £30,000 to erect and maintain the memorial.
Planning permission has already been secured for the memorial to be placed in Hayling Island where he and his colleagues used to train.
'Extreme risk'
Mr Booth joined the Royal Navy as a seaman at 18 and served throughout World War II.
"I wasn't called up as a volunteer in '39, I was within a year made an officer and for three years I served as an ordinary Naval Bridge Officer on British ships, convoys, escorts to Gibraltar and so on."
At aged 23, Mr Booth became a submarine pilot for the X-craft which were small submarines.
"In 1943, X-craft had been employed specifically to sink German battleships and when the prospect of invading Normandy came along, my organisation called COPP, looked at an alternative way of doing our job to recce the Normany beaches in advance and to mark them, by shining a light on actual D-Day.
"In order to do that, normally we would have used large submarines but there was an extreme risk that Germany which had quite good radar would have picked one up by the time we reached shore."
He and his team sailed from Portsmouth to the shores of Normandy to chart where the British could safely land.
On the day of the D-Day landings, Mr Booth and his colleagues left their X-craft in a fold-up canoe to shine beacons to guide the Allied landing craft safely onto shore.
"This operation was special, because Normandy was special and unique, and it was critical in winning the war," he said.
The memorial project was first started by Robin Walton, a local resident, who discovered the yacht club on Hayling Island had been taken over by the Royal Navy for these covert missions.
His efforts to honour the COPP unit won the interest of Prince Charles, who has since become a patron of COPP Heroes Memorial Fund.
Mr Booth now hopes others will support Mr Walton's aim to put up a memorial stone.
"We do hope people will subscribe to it, it's going to be right by the sea where COPP trained."
Mr Booth has been awarded the Croix de Guerre French military medal for his bravery.