Overwight injured cat found in Burnham-on-Sea put down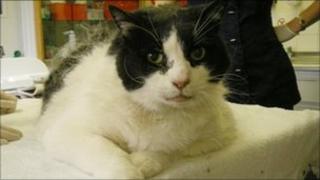 An overweight cat which was found injured on the side of the road has had to be put down.
The RSPCA said the black and white male weighed 23.5lb (10.6kg) when he was found in Burnham-on-Sea, Somerset.
The cat had untreated injuries on his back, which was covered in maggots as he was unable to clean himself.
The RSPCA urged anyone with information about the cat to contact them so it could make sure no other animals were suffering.
The cause of the injuries are unknown but vets believe they must have existed for some time.
RSPCA inspector Sue Dobson said: "The cat had no microchip or collar but clearly this was an owned animal as he could not have reached this size as a stray and someone must have been overfeeding him.
"He was probably dumped at the side of the road as he could hardly stand up, let alone walk, so would not have got very far by himself.
"Somebody must know where this poor creature has come from and how he came to be in such a state.
"It is vital they contact the RSPCA so we can make sure there are no other animals suffering in this way."
The cat was found in Frank Foley Parkway.