Dog trainer Rachel Mortimore gets lifetime animal ban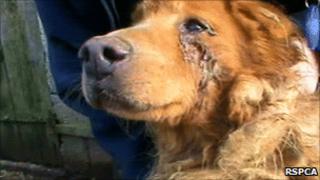 A prize-winning dog trainer from Somerset has been banned for life from keeping animals.
Rachel Mortimore, from the Foxdown Dog Training Centre at Culmhead, pleaded guilty to two counts of animal cruelty.
Taunton Magistrates' Court was shown video taken by the RSPCA which showed a dog with a hole in its jaw
An RSPCA inspector described the suffering as "unbelievable". The ban was later suspended pending an appeal to a higher court.
Centre 'overstocked'
Mortimore's defence team argued she was a woman who had devoted 25 years to caring for animals.
The court was told that prior to the raid in November 2010 the 57-year-old had taken in too many rescue animals and her premises had become overstocked.
Magistrates were told the problem was of her own making because she would not turn away any animal and during the economic downturn many were being brought to her.
At the time of the raid 300 animals ranging from chickens to horses were being kept at Foxdown, the court was told.
The video footage, the RSPCA argued, proved Mortimore was not a fit person to keep animals.
Magistrates gave her a lifetime ban but this cannot be implemented until an appeal to a higher court.
Both the golden retriever and a cat with an ulcer in its eye were seized by the RSPCA.
Speaking outside court RSPCA inspector Claire Ryder said the suffering was "unbelievable".
"This woman was supposed to love her dog and had it for 12 years and left it with a hole in its face.
"The other animals were living in filthy horrible conditions."
Mortimore, who must undertake 140 hours unpaid work, had previously won medals at Crufts and is a member of the British Institute of Professional Dog Trainers.