Glastonbury man's £2,000 reward to catch curse writer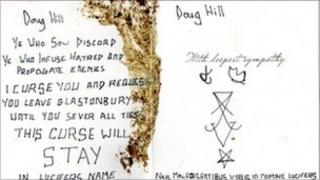 A man in Glastonbury who received a curse telling him to leave town has put up a £2,000 reward to find the culprit.
Doug Hill, who owns The Gauntlet shopping arcade in the town, received the curse disguised as a sympathy card.
Mr Hill said: "What they're doing is messing with people's lives, but I'm not taking the curse seriously."
The inside of the card includes symbols such as an inverted pentagram and Latin phrases.
It also states: "Ye who sow discord, ye who infuse hatred and propogate enemies I curse you and request you leave Glastonbury."
Over the past year Mr Hill has also received eight death threats by phone, a letter and text messages.
Although they have also included threats to leave town, Mr Hill does not believe the same person is behind the curse.
He said: "I won't be getting out of the town, anything they're trying to do is certainly not going to have any effect. They picked the wrong guy."
Mr Hill, 53, hopes the reward money will help flush out the culprits.
He said: "What I'm trying to do is expose these individuals.
"I know some witches, wizards and warlocks that have said to me: 'This is diabolical'.
"Because I'm a landlord you cannot do that job without upsetting people - if they don't pay the rent you have to take them to court, and if you take them to court you're the bad guy.
"When you are helping them, you're the good guy, but when you cross them, but the very nature of the job, it's not all about making friends."
The incident has been reported to the police but it has not yet been officially logged as a complaint.