Indoor ski slope plans at Weston-super-Mare approved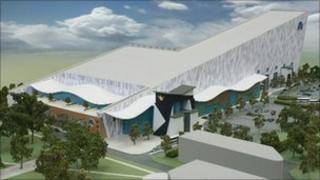 Plans for the UK's longest indoor real snow ski slope have been approved by North Somerset councillors.
The proposals, by developers LeisureDome would make the £50m centre, planned for Weston-super-Mare, the first in the South West.
As well as the 210 metre (689ft) slope, the 12.7 acre site at Locking Parklands also includes an indoor surf centre.
The application will be now go before the Secretary of State for Communities and Local Government to consider.
The plans for the former RAF Locking site were approved by the council's South Area Committee on Thursday.
The proposals also include a 40 metre (131ft) climbing wall, a freefall centre - simulating a sky diving experience - and a skateboard and BMX park.
Job creation
Community facilities would include a gym and children's centre.
LeisureDome's director, Clive Hamilton-Davies, said: "Our development will build on Weston's growing reputation as a leisure destination and the success of the Grand Pier which reopened last year.
"We estimate it will attract 550,000 visitors in the first year, which will add to the £369 million already generated by tourism in the local economy every year."
The company also anticipates that over 573 jobs would be created.
The slope, if granted final approval, will be 40 metres longer than the one in Milton Keynes.
A LeisureDome spokesman said it was hoped the centre would open in 2013.