Somerset firefighter retires after 47 years' service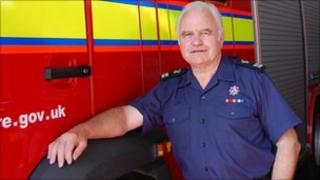 A retained firefighter is set to retire after 47 years of service in Somerset.
Dave Hares joined in 1964 when he was 17 years old after telling "a porky" about his real age because he needed to be 18 to work at the station in Winscombe.
In the first years, there was no breathing apparatus so it was a case of "holding your breath, crawling into the building, squirting the water on to the fire and coming back out again."
His father also served for 23 years. Mr Hares will retire on Sunday.
"When I was born, the local doctor shouted down the stairs, 'Curly another fireman' and I was hooked on the job right from the start."
In his main career, Mr Hares worked at a garage before joining the local undertakers in the town.
Despite his long-service, he was on holiday during the Weston Pier fire in 2008 and when Weston Playhouse burnt down in 1964 and did not attend these emergencies.
However his crew were called to help out in the Gloucester floods in 2007.
"We went to the electricity sub station which was involved on the second day of the floods to relieve the crew who pumped the water out.
"The electricity sub-station in Castlemead, near the town centre was taking the electric to government offices [Government Communications Headquarters] and they were quite keen on not interrupting the supply - we were pumping water out to make it safe."
'No two jobs alike'
But the strangest jobs have been rescuing birds caught in tricky situations.
"When we got there, it turned out to be a harris hawk and it was hanging in a tree by its leather strap and was unable to get free - no two jobs are alike and we never know what we're going to get until we get there."
The 64-year-old says even though he is older than his peers, he has managed to remain fit, by keeping active and interested in the job.
"I think the comradeship with the chaps and the buzz of being in it is the main thing. Most people working in offices know where they're going to be, but I could be at a fire, helping floods in Gloucester or helping somebody locally."