Man jailed for fatal shove at Cheddar takeaway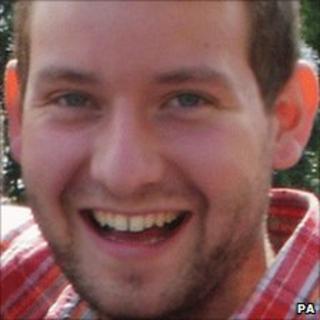 A man has been jailed for 23 months after admitting killing a footballer with a single blow to the head.
Samuel Binning, 21, killed Jim Hewlett, 24, with an "open-handed shove" in the early hours of 1 January outside a takeaway in Cheddar, Somerset.
Binning, formerly of Cheddar, now living in Crediton, Devon, pleaded guilty to manslaughter at a previous hearing at Bristol Crown Court.
The court was told all those present at the scene had been drinking.
Prosecutor Stephen Mooney said Binning had been striking out at a number of people in order to get to a friend who was caught up in a fight.
He said witnesses had seen Binning strike Mr Hewlett to the temple and his head moved in such a manner to cause a haemorrhage to develop almost instantaneously.
History of violence
The court heard medical evidence that he was "dead before he hit the ground".
Judge Neil Ford said the strike to Mr Hewlett had been "one hard shove with an open hand".
Binning, the court heard, was "not a young man of good character".
He had a history of violence when drunk and on the night in question he had also been consuming class B drugs.
Mr Hewlett regularly played football and had been club captain for Cheddar AFC.
At the time of the attack, Binning was banned from every licensed venue in Cheddar under the Pub Watch scheme, the court heard.
But that night he had been allowed an exemption to spend New Year's Eve in the Bath Arms Hotel.
Emma Martin, defending Binning, said her client was deeply remorseful and would live with his actions for the rest of his life.
Jailing Binning, Judge Ford said he accepted he had shoved Mr Hewlett rather than punched him.
'Truly devastated'
He said the sentence could never truly reflect the loss of Mr Hewlett to his family.
"I see these tragic circumstances in this court several times every year, always in the context of drink," the judge said.
"The consequences to Mr Hewlett's family have been truly dreadful.
"I have read very moving victim impact statements from his mother and sister, who have been left truly devastated.
"The sentencing process in this case will provide very little comfort to them.
"The sentence is not meant to be any sense of a measure of reflection of the family's loss and even more so it must not be a reflection on the value of James' life which undoubtedly was priceless."