Skull from 'oldest cemetery' on display in Bridgwater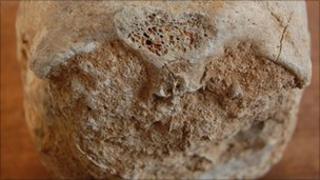 A 10,000-year-old skull found in Somerset, at what is believed to be the oldest cemetery in the UK, has gone on public display in Bridgwater.
In 1928 about five skulls were found at a sand quarry in Greylake, near Othery on the Somerset Levels and Moors.
This year radiocarbon dating revealed the two remaining skulls dated as far back as 8,300BC, the Mesolithic period.
One of them is being shown at the Blake Museum ahead of a permanent display which is being developed.
The skull was unveiled by Bridgwater MP Ian Liddell-Grainger on Friday.
The permanent planned display is part of the Lost Islands of Somerset Project, run by Somerset County Council, which is looking into the culture of the Mesolithic hunter-gatherer group which lived on an island on the Somerset Levels and Moors.
It will include the latest information on the analysis of the finds.
The council has said that open-air cemeteries, like the one where the skulls were found, are extremely rare in Europe and that it was the only one known in the UK.
It is believed the other skulls were destroyed in World War II in London.