Concern after timber stolen from Beacon Hill wood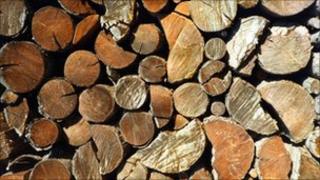 Conservation workers are urging people not to buy stolen wood after "huge" quantities were taken in Somerset.
John Burgess, from the Woodland Trust, said an estimated 50 tonnes of timber were stolen in the Mendips this year.
He said the quantity stolen, from Beacon Hill wood near Shepton Mallet, was a "huge, huge stack of wood".
A rise in the price of wood and the popularity of wood-burning stoves are cited as reasons for an increase in thefts.
"The gate was ripped off its hinges and somebody must have gone in with a pretty big trailer and stolen about 20 tonnes on the first night," Mr Burgess said.
"Little bits were then going missing. It got to the point when people were obviously going into the wood using chainsaws and bowsaws and the like, throwing it over their shoulder and walking out.
"That's a saleable product that we can use to raise revenue that helps fund the work we do in the charity.
"But the fact it is increasing means we don't know where it will stop - people might just start going in and cutting down the trees and helping themselves."