Volunteers offer diabetes advice in Weston-super-Mare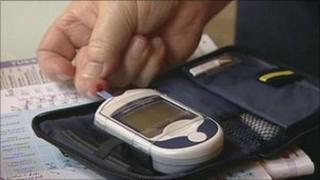 Diabetics in Weston-super-Mare are being trained so they can offer advice to other people with the condition.
Under the programme, volunteer peer advisors offer basic advice to help those newly diagnosed.
It means hospital consultants will be able to concentrate on patients who need their expertise most.
But Dr Parag Singal said it was important volunteers' advice did not conflict with medical experts.
"They give initial advice and they have to be very careful there is no conflict with the medical profession," he said.
"It's simple basic advice and also they encourage patients to get opinions from and nursing staff."
Dietary advice
The course includes dietary advice and the confidence to pass on information to newly-diagnosed patients.
A recent study by the University of Bristol found that out of 593 patients with type-two diabetes, the group given dietary advice after diagnosis had much better blood sugar levels after six months compared to a control group given no advice.
Diabetes occurs because the body can not use glucose properly, either owing to a lack of the hormone insulin or because the insulin available does not work effectively.
According to the charity Diabetes UK, more than two million people in the UK have type-two diabetes and up to 750,000 more are believed to have it without realising they do.