New rescue boat for Somerset named in ceremony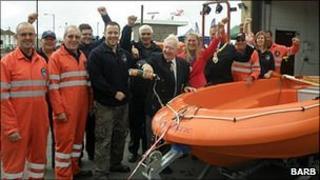 A new inshore rescue boat for Somerset has been brought into service.
The vessel, owned by the Burnham Area Rescue Boat (Barb) charity, will be used for rescues on lakes and rivers.
It was named Seren in a ceremony on Sunday attended by the Liberal Democrat MP for Wells, Tessa Munt, and Burnham-on-Sea's mayor and mayoress Michael and Maria Clarke.
Barb has helped rescue more than 200 people over the past 19 years from the Somerset coastline.
The naming ceremony was one of a number of events taking place as part of the town's annual rescue services day.