Berrow beach walker rescued after getting stuck in mud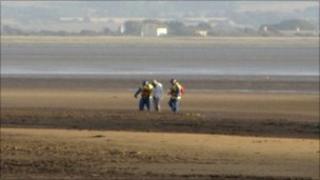 A walker has been rescued by Burnham-On-Sea coastguards after getting stuck in the mud.
The 38-year-old man, who was visiting the area from East Timor, was spotted by a beach warden a mile-and-a-half from the shore at Berrow.
Two rescue hovercrafts were involved in the operation, south of the beach wreck, at 19:11 BST on Monday.
"He was extremely lucky not to have got into more difficulty," said coastguard officer Steve Bird.
Mike Lowe, from the Burnham Area Rescue Boat (BARB), said: "The beach warden did the right thing in contacting coastguards as soon as there was any concern regarding the man's welfare.
"It could have turned out to be far more serious."
BARB is run by volunteers and has helped and rescued more than 200 people in Somerset over the past 19 years.