All-weather pitch funding secured for Yeovil Rec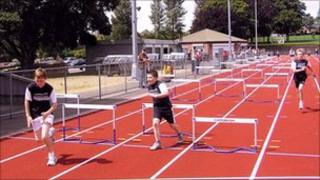 Funding for an all-weather pitch in Yeovil has been secured by South Somerset District Council.
The England Hockey Board granted £117,000 for the project which could cost between £600,000 and £800,000.
Steve Joel, from the council, said: "Yeovil and South Somerset has a shortage of hockey and artificial grass pitch provision so we're pleased to get this external funding."
The planning application is to be submitted in the autumn by the council.
The application will go before the council's Area South Committee where the public will be able to put forward their views and a decision then will be made.
But if there are any objections the planning application will be referred to the district council's Regulation Committee, which is made up of councillors from across the district, who will scrutinise the decision made.
Hockey hope
In addition to the England Hockey Board funding, £476,000 was secured from Barratt Homes two years ago as part of the planning conditions for the Wyndham Park housing development.
The district council has also set aside £224,000 but hopes the grant and Barrett money will finance the entire build.
The pitch would be built next to the Athletics Arena at the Yeovil Recreation Ground and will cater for football, tennis, netball, but will mainly be used for hockey.
Yeovil and Sherborne Hockey Club will be based at the new pitch.
Hockey club chairman, Keith Walters, said: "For the last nine years our club has been playing in Dorset because there hasn't been anywhere suitable in Yeovil, so it means we can bring the club back to South Somerset once again and we can get more community schools involved with the club."
None of the existing football pitches because of the new pitch, and floodlighting will operate during the same hours as the Athletics Arena.
Plans for the new pitch are separate to previous proposals for the Yeovil Sport Zone.
If approved, the pitch will open in September 2012.