Unsafe Victoria Bridge in Bath reassessed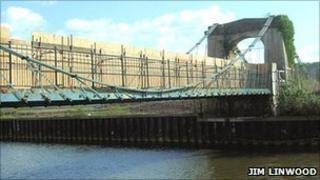 A 19th-century footbridge in Bath, closed due to safety concerns, is to be re-evaluated by "bridge experts".
Victoria Bridge, which links Upper Bristol Road to the Western Riverside, was closed last autumn after engineers found defects in the structure.
Bath and North East Somerset Council has called in a new structural engineer to decide the bridge's future.
Councillor Roger Symonds said following the first "bad report" it may be "a long time before it's back in action".
The listed structure, a hybrid between a suspension and a cable-stayed bridge, was closed last year after weaknesses were identified in the timber deck.
Despite the bridge getting "quite a bad report" from structural engineers, the council says it is committed to reopening it.
Councillor Symonds, cabinet member for transport, said: "Victoria Bridge is historically important and also it's the entrance to the new Western Riverside development so its going to play a really big part for pedestrians and cyclists coming into Riverside."
Depending on the new report, due in October, any work undertaken by the council will need the agreement of English Heritage before work commences.
Robin Griffiths, a structural engineer who analysed the bridge for the University of Bath, said the extent of the repairs will depend "on how much corrosion is found on the structure".
"The worst case scenario might be a job for dismantling it, repairing it and re-assembling it again," he said.
"But it might just be a case that some patch repairs can be done, although from the sound of it, it's serious."
"A bridge like this needs regular maintenance and from research that I've done, the last time I think it was fully looked at was in the 50s."