Cheddar girl wins National Championship sailing race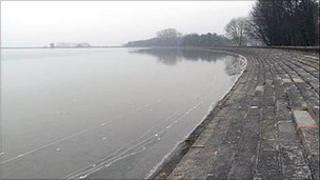 A sailor from Somerset has become the youngest person to win a National Championship race.
Libby Allen, 13, came first in the Enterprise class whilst competing in Cornwall, following six-months training at Cheddar reservoir.
The teenager has only been sailing for four years and sails with the Cheddar-based Bristol Corinthians Yacht Club.
She also won the Ron Brittain Trophy during the championships, honouring her as the leading under-18 sailor.
"My dad coached me and taught me how to sail," she said.
"I did a small course at Bristol Corinthians Yacht Club, which was nice because I met loads of sailors as well.
"I've just started sailing an RS200, which is a two-man boat still but it's got a spinnaker so it's a lot faster than an Enterprise. It's definitely a lot more fun.
"I'm just learning to sail that well and then I'm going to do a couple more events, with someone else that I'm sailing with, and then see how that goes."
Her performance at the Enterprise National Championships saw her win the Lanning Trophy for her race win, she also picked up the Mary Arnold Baker Trophy for the first lady crew, and the Transom Trophy for finishing second in the competition overall.
Cheddar reservoir was constructed in the 1930s to make better use of the water from the springs in Cheddar Gorge, which had first been used as a source in 1922.
In 1947 it became the first supply reservoir in Britain used for sailing.