Dog damaged trees in Bath costs £20,000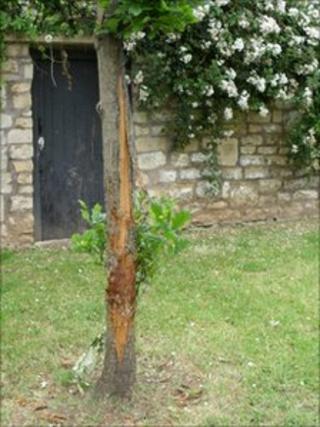 Thousands of pounds worth of damage has been caused to trees in public parks in Bath, caused by dogs who are encouraged to sharpen their jaws by their owners.
Bath and North East Somerset council says it has spent £20,000 on felling, replanting and repairs in Queens Square, Green Park and Henrietta Park in recent years.
Dogs are urged to chew at the bark on tree trunks or branches.
The council has now begun working with the police to tackle the problem.
A council spokesman said a wide range of measures were being considered to prevent the damage in the first place, including erection of physical barriers, temporary information signs, and banning dogs from some locations.
One of the trees that has been damaged is a 100-year-old Lawson Cypress tree in Henrietta Park.
Similar problems have been reported in other parts of the country, with some councils now smearing grease on tree trunks to protect them.
Members of the public in Bath have been asked to report anyone seen carrying out such activities.