Samuel Taylor Coleridge Cottage to reopen after revamp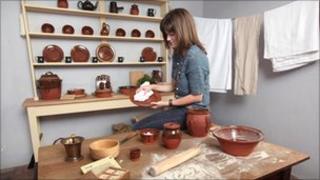 The Somerset cottage which was home to poet Samuel Taylor Coleridge is to reopen after a £175,000 revamp.
Coleridge Cottage has been decorated in the 18th Century decor the poet was accustomed to and some original features have also been restored.
Project manager Stephen Hayes said the team had restored a fireplace which was "almost certainly" the same as the one in the poem Frost at Midnight.
For the first time the garden and kitchen have been opened to the public.
'Original fireplace'
Coleridge lived in the cottage, situated in the village of Nether Stowey in the Quantock Hills, for three years from 1797.
His stay in Somerset was regarded as one of his most creative periods, where he wrote This Lime-Tree Bower My Prison, Kubla Khan and The Rime of the Ancient Mariner.
The cottage was changed into an inn during the Victorian era and an extension was built.
This part of the the building has now been opened up to showcase an exhibition telling the story of the Romantic movement in the West Country.
Money for the project was raised through grants from the not-for-profit Viridor Credits Environmental Company, the government and The Friends of Coleridge.
It will open to the public from Thursday.