Rooksbridge wind farm mast gets approval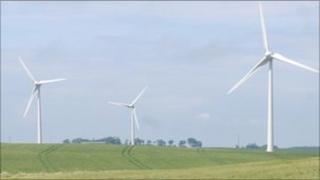 A temporary meteorological mast is to be installed at a proposed wind farm site in Somerset.
The steel pole, which will stand at 230ft (70m) high and 1ft (30 cm) wide, will collect data at the planned Pilrow site near Rooksbridge.
It will be used to measure wind speed and direction over a two-year period.
Broadview Energy, which wants to build a wind farm, said the study will dictate the number of turbines, their positioning and height.
The company says it expects to submit a planning application for the development in early 2012 and, if approved, the site could be operational in the summer of 2013.
Plans for the temporary structure were approved by Sedgemoor District Council.