Emaciated balding dog left at Somerset vet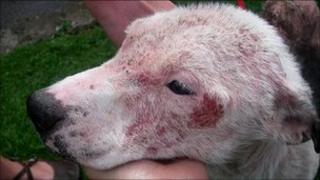 The RSPCA is appealing for information after an emaciated dog with a bad skin condition was handed in to a veterinary surgery in Somerset.
The black and white dog, a collie cross Staffordshire bull terrier, was left by a member of the public at Garston Vets in Frome on 10 August.
The RSPCA said the person who brought him in "would not identify the owner" but referred to the dog as Bramley.
The charity wants to find out "how he came to be in such a poor condition".
RSPCA inspector Rebekah Griffiths said: "This poor dog is emaciated and has a severe skin condition which would have not got this bad overnight.
"So we are keen to find out where he came from and ensure no other animals in the home are suffering in this way.
"I would urge anyone who recognises this dog, which may or may not actually be called Bramley, to contact the RSPCA in strictest confidence."