John Penrose MP raises hopes of Banwell lorry ban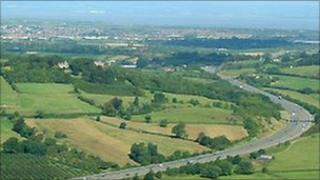 Hopes that a busy road through a Somerset village can be rid of heavy lorries have been raised, the area's Conservative MP has said.
John Penrose urged the government to remove part of the A371 through Banwell from the primary route network (PRN), last month.
The Weston-super-Mare MP was told the road could be considered for removal if an alternative route was found.
Mr Penrose said it was a "step in the right direction".
Designated routes
A letter to the MP from the Under Secretary of State for Transport, Mike Penning, said the A371/A368 was in the PRN because it linked two primary destinations - Bristol and Weston-super-Mare.
But it added that if the local authority could find an alternative route, and secure the approval of all councils involved, the road could be removed from the PRN.
"The minister says the council will have to identify an alternative route between Weston and Bristol but, since we've already got the M5 and A370, that's hardly a major problem," Mr Penrose said.
He said he would write to both Banwell Parish Council and North Somerset Council to urge them to support an alternative route.
The PRN designates routes between major settlements, ports and airports across the UK, and is the preferred routing for long-distance traffic, particularly goods traffic.